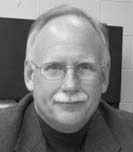 Richard C. Jaeger, K4IQJ
As promised, Dick, K4IQJ presented a great program on "Advanced Beverage Antenna Designs". Dick covered the origin of the Beverage antenna and the design and operation of various models.
A PDF of his program can be printed from  the link below.
http://w4hod.org/K4IQJ Beverage Talk.pdf
Dick has presented several programs on antennas at Dayton and Huntsville. You can read about them and print them at Dick's web page.
http://www.k4iqj.com/2101.html