Congrats to Ken, KJ4ZYC, from Montgomery for passing his Extra class exam Tuesday evening. Not only did he pass, but did not miss a single answer. This VE has not seen many amateurs accomplish that.
After the test, Ken,  VE Hal- KJ4TD, Bob- KA4PKB; and VE Cheryl- AA4YL adjourned to Moe's Southwest Grill for happy hour. Great conversation and fellowship was in abundant supply.
Bob loaned Ken one of our spud guns to test out. We will build Ken one as soon as possible.
Speaking of spud guns, we are hearing of people using propane to fuel their launcher. We have found there is no need for such extreme measures. A simple tire stem and bicycle pump or small air compressor work fine.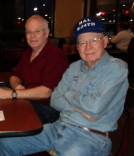 Ken, KJ4ZYC in back and Hal, KJ4TD

Cheryl, AA4YL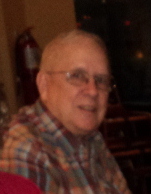 Bob, KA4PKB